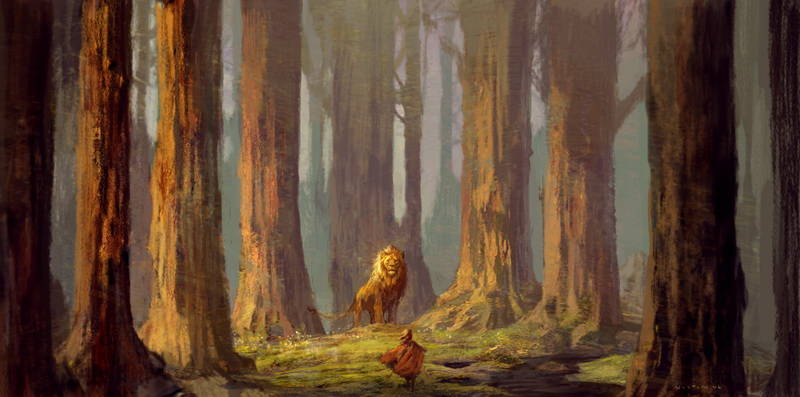 We've all read books where the plot was interesting and the writing is good but you feel strangely disconnected from the characters. And then there are books where you have a close bond with the characters and you feel like you know them better than anyone else. It's a unique feeling, to befriend 'people' who don't exist, but it is easy to do so if the writer is good enough. But I think it takes only the best writers to make you feel that way, (i.e. C.S. Lewis and J.K. Rowling).
But what is it exactly that draws us to certain characters in a story? It's hard to pinpoint it exactly but I think it has something to do with the characters behaving in a way in which the reader would behave had he or she been put under the same circumstances. The characters (especially the protagonist) should simply be human, they should make mistakes and suffer the consequences. They should love someone and wind up heartbroken. They should live, just as we live, unaware of what's going to happen next.

Of course we know that these characters aren't even real so they are, therefore, indifferent as to whether or not they get attacked and killed by a deranged, fire-breathing cat lady in the next chapter but it's an illusion. Writing is the best form of magic that there is. A good author can make you fall in love with someone who's not real. They can spin a tale that is so intriguing, you don't want it to be make believe. But good authors are hard to find.

Take J.K. Rowling for example. I always loved how I could somehow always know exactly who was speaking in the Harry Potter series without her even having to tell me who it was. There is something very distinct about each character and I felt as though they were my closest friends. I knew them. I could relate to them.

Also, the characters in the Harry Potter series are so diverse and interesting yet they all have their place. Harry, Ron, and Hermione are, of course, the main characters but there are so many good characters such as Luna Lovegood and Fred and George Weasley. Characters that make you laugh and make you cry. And there are also characters that you love to hate like Draco Malfoy and Snape. It's a wonderful collection of characters that add so much to the story.

I am quite confident that one of my favorite literary characters of all time is Hamlet from Shakespeare's timeless play. The character of Hamlet is so complex and intricate, it can only be related to our own complex characters. Although it is widely misinterpreted, the question 'to be or not to be' is a question we all unconsciously ask ourselves when we have to choose a certain path. Hamlet was unaware of his future and his need to know what was to come ended being what destroyed him. We are all unaware of our future and we have to choose whether or not we'll let it overtake us. And we all do make the decision whether we are aware of it or not. The character of Hamlet, I think, is one of the most relatable literary characters ever. And there I go on another long interpretation of Hamlet. (That's not even the half of it, I actually wrote a 1,000 page analysis of Hamlet for my Shakespeare class).

The actual development of the character really is the most important part to the character. It seems that most of the characters in the books I've read recently do not develop at all but, instead, they remain as boring as they were originally.

Without a shadow of a doubt, my favorite example of character development is the character of Edmund in The Chronicles of Narnia. In The Lion, The Witch, and The Wardrobe, Edmund is a selfish boy who believes Lucy is crazy after she says she found another Narnia in the wardrobe. He was even willing to give his brother and sisters over to the White Witch for some Turkish Delight. But after Aslan sacrifices himself for Edmund, he changes. When Lucy sees Aslan in Prince Caspian, nobody believes her but Edmund says this: "When we first discovered Narnia a year ago—or a thousand years ago, whichever it is—it was Lucy who discovered it first and none of us would believe her. I was the worst of the lot, I know. Yet she was right after all. Wouldn't it be fair to believe her this time?"

This change in Edmund is a reflection of the change that we all undergo when we realize Christ to be our Savior. When we truly understand the sacrifice God made for us, how is it possible not to become an entirely different person?

Any way, the characteristics a character must have and must not have are easy to recognize but much harder to follow when you find yourself with the pen in your hand. Character development is a tricky thing to master and even some of the best writers fall short. But I think that part isn't so much something you can learn from reading a book but rather something you must learn with time and experience.

Experience really is the key to spinning a good tale. The more people you interact with and the more you grow, the easier it becomes to develop your characters. And trust me, I still have a long way to go but, in time, I hope that I will get it right.

So who are your all time favorite literary characters and what do you like about them? Do you like characters that make you laugh? Cry? Do they remind you of yourself or someone you know?